Shopify Q4 Results: Stock plunge 26% on lower Revenue forecast for 2022
Net Profit/Loss - Shopify, a cloud-based commerce company, reported a loss of $371.3 million in the Q4 which translates to a loss of $2.95 per share. The net profit for the year-ago period was $123.9 million. The loss is opposite to analysts' expectations - they expected earnings of $1.33 per share for the December quarter.
Revenue rise - The company reported net revenue of $1.38 billion for the quarter between October and December. The revenue is higher than analysts' estimates of $1.34 billion revenue. The revenue was up by 41% YoY.
Revenue from different segments
Subscription solution - The revenue from the Subscription Solution segment was $351.2 million, a rise of 26% YoY. The growth was driven by the addition of more merchants on the platform.
Merchant Solution revenue - The segment reported a revenue of $1,028.8 million, up 47% YoY, driven primarily by the growth of Gross Merchandise Volume, exceeding $1 billion of revenue for the first time in a single quarter.
Monthly Recurring Revenue - As of December 31, 2021, the revenue from this segment was $102 million, surpassing $100 million for the first time. MRR increased 23% YoY, up from $82.6 million as of December 31, 2020.
Operating Income - The operating income for Q4'21 was $14.4 million, or 1.0% of revenue. In the year-ago period, it was $112.5 million, or 12% of revenue. Adjusted operating income for Q4'21 was $130.2 million, or 9% of revenue, compared with adjusted operating income of $200.0 million or 20% of revenue in the fourth quarter of 2020.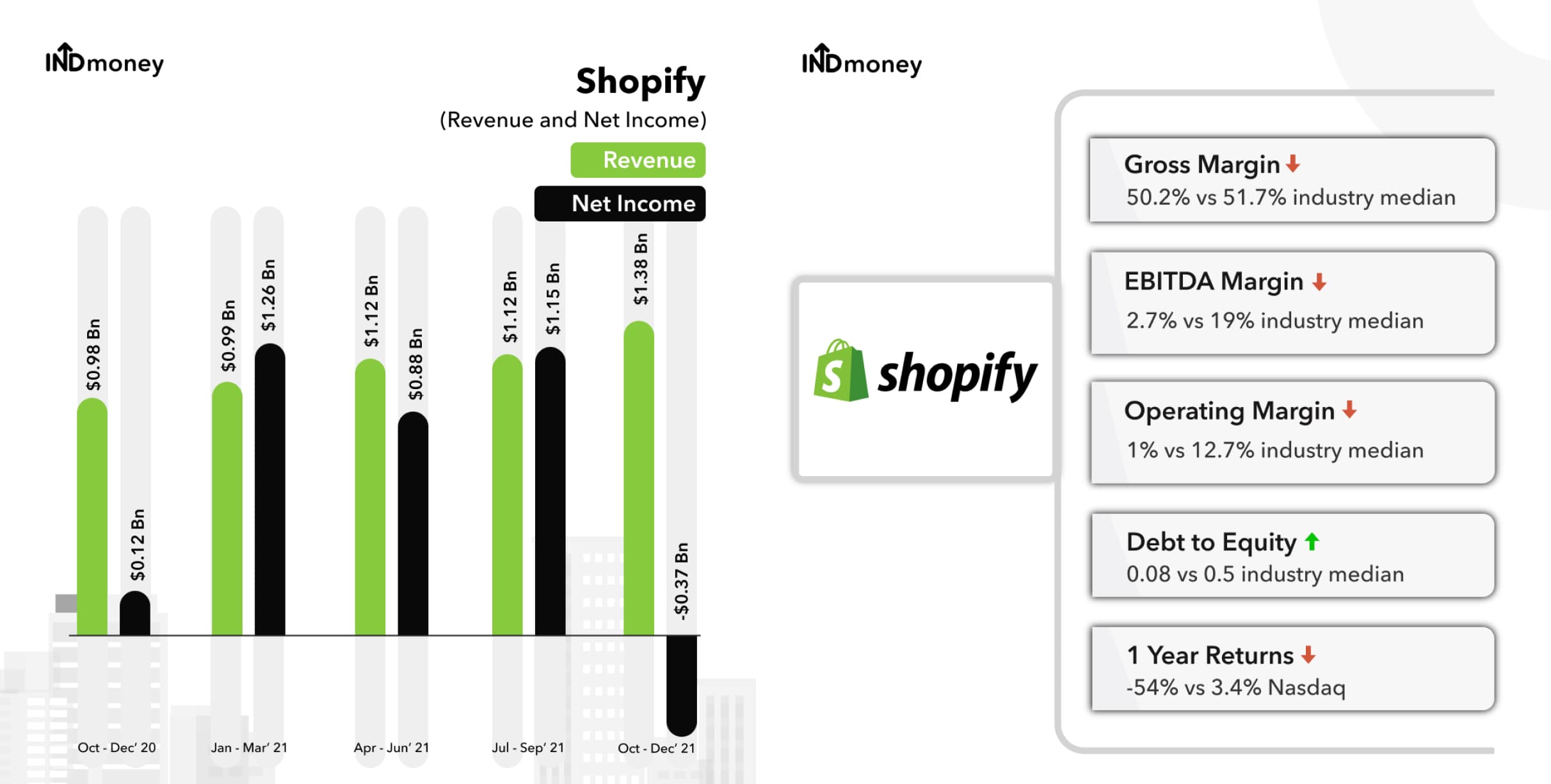 Cash and cash equivalent - For the quarter ended December, Shopify had $7.77 billion in cash, cash equivalents, and marketable securities. In the year-ago period, Shopify held $6.39 billion. The increase reflects $1.5 billion of net proceeds from Shopify's offering of Class A subordinate voting shares in Q1'21 and $0.5 billion of net cash provided by operating activities, partially offset by the purchase of equity and other investments during 2021.
2022 Outlook - The company has said that YoY revenue growth will be lower in the first quarter of 2022 and highest in the fourth quarter of 2022. It cited a number of headwinds, including an end to the pandemic-induced e-commerce surge, the removal of government stimulus and concerns that consumer spending could slow as a result of rising inflation. Subscriptions Solutions revenue growth is to be driven by more merchants around the world joining the platform than in 2021. Merchant Solutions revenue growth to be more than twice the rate of subscription solutions revenue growth year-over-year.
Target price - The 32 analysts offering 12-month price forecasts for Shopify Inc have a median target of $1,235, with a high estimate of $3,300 and a low estimate of $800.
Shopify Q4 Results Review:
The company has missed the bottom-line completely, but the topline has shown good growth. Shopify said revenue growth for 2022 would be slower than the 57% it saw in 2021. Shopify was named #1 on G2's Crowd Grid for E-commerce Platforms in its Winter 2022 report, retaining this leading position for the seventh consecutive year. The company has said it will continue to invest in building world-class commerce infrastructure, helping merchants to easily sell anywhere, scale their business, and create delightful shopping experiences for their buyers.
The Shopify stock closed 11.6% lower on Thursday at $600 per share.